The 19th World Council officially opened in Chiang Mai on Sunday night with bright lights, glittering Thai performances, talented young people singing and dancing but most importantly a strong reaffirmation of the YMCA's strategic direction to empower and support young people.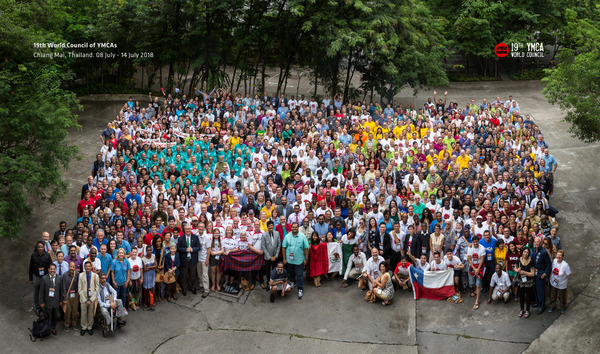 Exciting and energetic from start to finish, World YMCA President Peter Posner welcomed over 80 countries.
The YMCA is changing for greater good 
The YMCA always has, and always will be ambitious. On Monday in the Secretary General Report Johan Vilhelm Eltvik shared the findings from the YMCA Blue Book of World YMCA Movement Statistics but also his thoughts and memories of his time in the role.
On the second day the World Council provided an insight into the YMCA as a movement and further ensured the wheels of the machine continue turning while also inspiring over a thousand delegates.
One Million Voices 2 Research Preliminary Findings Launched
"Despite the differences in cultures and languages, young people across the world face many similar disadvantages in areas like employment, education and mental illness," Secretary General Johan Vilhelm Eltvik on the YMCA One Million Voices 2 Research.
The research was gathered across 25 countries from over 1,000 young people aged 17–20 years old. The preliminary results are eye-opening and will help local and national YMCAs know how to better provide for their young people across employment, health, environment and civic engagement.
Nyaradzayi Gumbonzvanda on persistence even in the face of injustice
"We have the legacy of never giving up, we will never die," keynote speaker Nyaradzayi Gumbonzvanda said.
Poverty. Sexual abuse and violence to women and children. Corruption. Reproductive health and mental illness. Nyaradzayi encouraged us to fight for the young people in our countries and to act passionately about the importance of education and giving voice to these issues to create change.
Safe Space Strategy: Inclusion and diversity is at the YMCA core
The Business Agenda presented the Safe Space strategy, which is part of a resolution from the 18thWorld Council to promote social inclusion and non-discrimination for all people within the YMCA.
The World YMCA aims to empower all young people without discrimination. The group presented the two years of research and consultation on how to facilitate a Safe Space discussion abiding to the UN Human Rights Declaration to strive courageously against discrimination. The motion was carried with an overwhelming majority in favor.
A very historic moment for YMCA as we work towards becoming more inclusive to all.
New 4-Year Strategy continues to be about youth empowerment
"The only way we know if we are strong is if we try" the incoming YMCA World Secretary General Carlos Sanvee said in response to a challenging question about whether our movement is united enough to make a difference globally.
The long-term strategy for the World YMCA continues to be in youth empowerment and to work harder to make a bigger impact with young people. Another aim is to increase our youth research. The strategy was approved at the business agenda.
YMCA Change Agents program makes good things happen
"I took the call and it was the longest call of my life. It was 20 seconds and they told me I had got the job," Andrew, CEO of Sioux YMCA, who despite having dyslexia became the youngest CEO at a YMCA at 23 years old.
Every story is different but all YMCA Change Agents who spoke last night had been positively impacted by the program and how it shaped them. That positivity and life they now give back to their communities. There are currently 700 change agents and this number continues to climb.
The 4th cohort was also launched.
Excursions with a social cause
On Wednesday the World Council delegates went on half day excursions to see how strategy can be translated into real life areas in Thailand with the help of YMCA Change Agents and local hosts facilitating workshops.
These deeply educational experiences were excursions which tie into the YMCA's four strategic areas: civic engagement, health, employment and environment.
Official partnership with Harlem Globetrotters and YMCA
On Thursday Howard Smith and Johan Vilhelm Eltvik signed an official partnership between the Harlem Globetrotters and YMCA!
"Our values fit together. Our history fits together. We both put community first and we both have basketball at our core," Johan said.
History in the making
On Friday the World Alliance of YMCAs announced the new Officers for the Executive Committee for the four-year term 2018-2022.
Patricia Pelton from Canada was elected as President, the first female in the YMCAs 174 year history.
"The women leaders in our movement, past and present, have worked so hard to pave the way and see this day. Inclusion in leadership benefits us all. This. Change. Is. Momentous, she said."
The Deputy President is Agustin Garcia Bolanos Cacho from Mexico and the new Treasurer is Ronald Tak Fai Yam from Hong Kong.
Carlos Sanvee delivered his acceptance speech as the new World YMCA Secretary General. Sanvee is the first Secretary General from Africa.
"Our collective and future story now has to be how – as a global movement – we move ahead by tapping in to our great potential through anticipation, innovation and collaboration," he said.
YMCA Change Agents demand more action
The closing ceremony featured a strong message – delivered through song, dance and audience interaction by the Change Agents. The message was that we need to listen to young people's voices more and ensure they are heard within the movement in both a local and at a global level and be making conscious efforts to include them and create opportunities for them. There was also a focus on responding more to social injustice and taking more of a stand and uniting together for important humanitarian issues.
Onwards and upwards
The 19th World Council will be remembered as an important moment in the YMCA's history as we become more inclusive, diverse and equal. First female president. First African Secretary General. The continued desire and ambition to work better together and move forward with young people and for Youth Empowerment 4 Good.
All the photos of the 19th YMCA World Council:
https://www.flickr.com/photos/ymcaworld
Download the photo of the 19th YMCA World Council:
https://tinyurl.com/y8tm5crc
Highlights of the week – Video
https://youtu.be/KA0c7RiCAy0